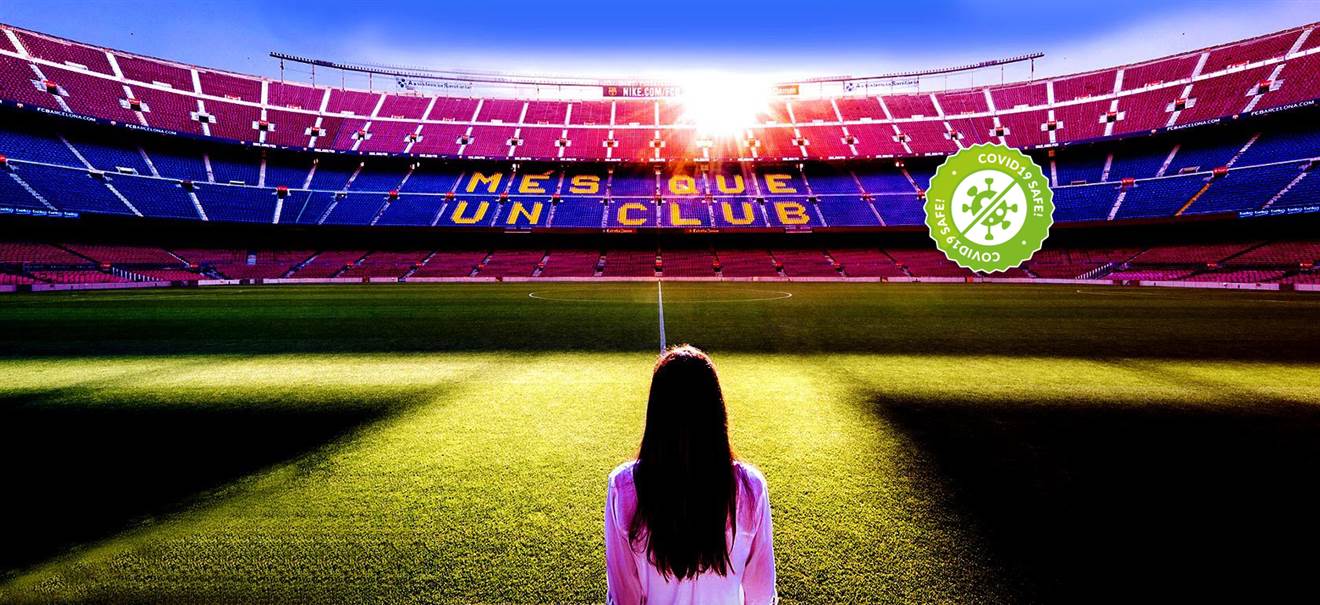 FC Barcelona Stadium Tour
To product

100% MOBILE
Show tickets on your phone

Covid Safe
Imagine yourself walking around the most famous pitch surrounded by nearly 100,000 screaming fans! It is a certainly a must-do on your trip to Barcelona, even if you are not a big football fan.
We can offer you that sensation and even more. A self guided tour through the stadium and being able to see more than 20 Ligue and Champions Ligue trophies. 
The ticket includes entrance to the museum to learn all the secrets of their victorious history as well as the Multimedia Zone to see them all! 
COVID-19 SAFETY MEASURES  
Due to the pandemic situation and to protect you and those around you, visits will allowed with the following sanitary norms and regulations: 
Wearing a face mask can be required.
Distance between visitors is obligatory.
Guests may be subject to a temperature check.
Visit time may be limited.
Always follow the staff instructions.
WHY IS THIS PRODUCT CORONA SAFE? 
Hand sanitiser available 
Encouragement of mask wearing can be compulsory. Bring it when you can
Reduced capacity and distancing measures on the vehicles/vessels
Staff will encourage visitors to keep distance
By buying the tickets all visitors  declare that they do not have cold-like symptoms such as nasal congestion, a runny nose, sore throat, light cough, fever (up to and above 38°C) and/or shortness of breath.
When you book a ticket, you automatically agree with our Terms and condition
From 7th January to 3rd April: 
From 10am to 6:30pm
Except Sundays - From 10am to 2:30pm
From 4th April to12th October: 
From 9:30am to 7:30pm
Except Sundays - From 10am to 7:30pm
9th, 10th and 13th April - From 10am to 7:30pm
From 13th October to 18th of December:
From 10am to 6:30pm
Except Sundays - From 10am to 2:30pm
1st of November and 6th and 8th of December - From 10am to 2:30pm
From 19th December to 6th January: 
From 9:30am to 7:30pm
Except Sundays - From 10am to 7:30pm
25th, 26th and 31st - From 10am to 7:30pm
Camp Nour Tour until one hour before the Museum closes.
Click here to check opening hours of the Museum.
The Camp Nou Experience is closed on matchdays for the Spanish League and on matchdays (and the day before matchday) for the Champions League. When you have bought a ticket for one of these dates you can enter the Camp Nou Experience the day before or the day after. 
The coming dates the Camp Nou Experience is closed:
December: 25
How does it work?
It is very simple. Just select a timeslot when you would like to visit. Once you have entered the Camp Nou Experience, then you can stay as long as you want. When you don´t know yet when to visit the Camp Nou Experience you can also book open tickets (no date selection) which are more expensive. 
Location:
Avenida de Joan XXIII
08028 Barcelona
Metro to Maria Cristina or Collblanc
Cancellation policy:
This ticket is not refundable. 
Go directly to the entrance. Bring your voucher and skip the waiting line. You do not need to go to a special location to exchange the voucher for your ticket!